09/14/2021 UPDATE:
Congratulations to studio King and Country on their Outstanding Main Title Design Emmy win for The Good Lord Bird and to composer Blake Neely for his Outstanding Original Main Title Theme Music award for The Flight Attendant.
This is the first Emmy win and first nominations for creative director Efrain Montanez, art director Eduardo Guisandes and illustrator and animator Abigail Fairfax.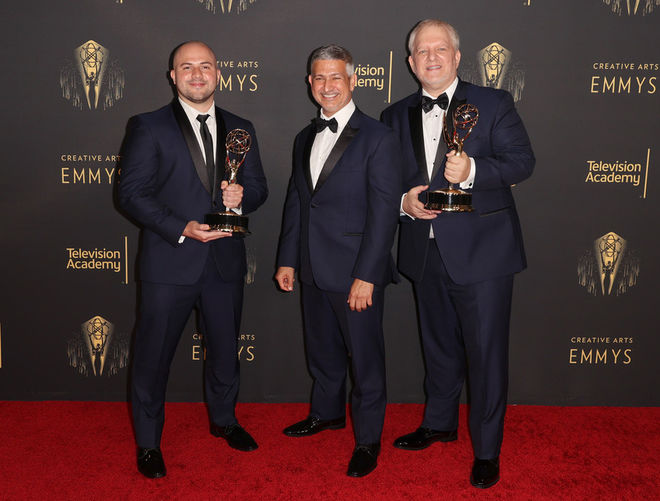 It's also the first win for Neely, who was previously nominated for Outstanding Original Main Title Theme Music in 2003 for his work on Everwood, for Outstanding Music Composition For A Miniseries, Movie Or A Special (Original Dramatic Score) in 2010 for The Pacific and for Outstanding Music Composition For A Series (Original Dramatic Score) in 2012 for Pan Am.
—
The 2021 Emmy nominations were announced on July 14th, including the nominees for this year's Outstanding Main Title Design award.
Six shows' title sequences were nominated this year, down from last year's all-time high of seven. There's more diversity among the designers and studios represented compared with 2020, including first-time nominees Steve Small of Studio AKA, Efrain Montanez of King and Country, John LePore and Doug Appleton of Perception and Berlin-based director and designer Saskia Marka. And notably, two of the nominations are for end title sequences rather than openers: Perception's work for WandaVision and Marka's series closer for The Queen's Gambit.
Santa Monica-based studio Elastic earned its 20th nomination with their opening titles for HBO's special Between the World and Me, which also marks creative director Hazel Baird's second Emmy nod. Last year Baird was nominated for work with Angus Wall on the titles for Apple TV+'s The Morning Show. Elastic has been a mainstay at the Primetime Emmys over the past decade, previously winning the title design Emmy in 2019 with Game of Thrones (Season 8), in 2016 for The Man in the High Castle, in 2014 for True Detective, and in 2011 with Game of Thrones (Season 1).
Earning their 12th and 11th nominations with their work on HBO's Lovecraft Country are Patrick Clair and Raoul Marks, a powerhouse team who snagged their first Emmy Awards with the opener for 2014's True Detective. The duo are now working through studio Antibody.
HBO, a reliable network presence in the category since 2002 (when Six Feet Under stole the show), dominates the category this year with two nominations, one for Between the World and Me and one for Lovecraft Country, as well as another for HBO Max's Raised by Wolves.
Title sequences that were grievously overlooked this year were those for the Kaley Cuoco airline dramedy The Flight Attendant (though it did receive a nod for its main title theme music), Dahvi Waller's historical miniseries Mrs. America, Apple TV+'s anthology series Little America, and the suburb scorcher Little Fires Everywhere.
In related categories, one of the series nominated for its end titles — WandaVision — also received a nod in the Outstanding Original Main Title Theme Music category.
Congratulations to the nominees! Watch all of the nominated sequences below.
—
BETWEEN THE WORLD AND ME
HBO
Studio: Elastic
Creative Director: Hazel Baird
Art Director: Diego Coutinho; Animator: Rafael Morinaga

THE GOOD LORD BIRD
Showtime
Studio: King and Country, LLC
Director/Creative Director: Efrain Montanez
Art Director/Designer: Eduardo Guisandes; Illustrator/ Animator: Abigail Fairfax

LOVECRAFT COUNTRY
HBO
Studio: Antibody
Creative Director: Patrick Clair
Art Director/Animator/Compositor/Lead 3D Artist: Raoul Marks; Illustrator: Ken Taylor
THE QUEEN'S GAMBIT
Netflix
Creative Director/Designer/Editor: Saskia Marka
Designer/Animator: David Whyte

RAISED BY WOLVES
HBO Max
Studio: Studio AKA
Director: Steve Small
WANDAVISION
Disney+
Studio: Perception
Creative Director: John LePore, Doug Appleton
Lead Designer/Animator: Nick Woythaler; Designer/Animator: Alex Rupert; Designer: David Wave

Check back on September 18th and 19th to find out which sequence takes home the prize at the 73rd Primetime Creative Arts Emmy Awards. And in the meantime, be sure to read our Top 10 Title Sequences of 2020 feature to see more of the best title design work of the last year.
BETWEEN THE WORLD AND ME
Studio: Elastic
Creative Director: Hazel Baird
Art Director: Diego Coutinho
Designer: Diego Coutinho
Animators: Diego Coutinho, Rafael Morinaga
Producer: Michael Ross
Coordinator: Mitchell Fraser
Executive Producer: Luke Colson
Deputy Head of Production: Zach Wakefield
Head of Production: Kate Berry
Managing Director: Jennifer Sofio Hall
Music: "Soundtrack to Confusion" by Black Thought & Salaam Remi
—
THE GOOD LORD BIRD
Main Title Sequence Created by: King and Country, LLC
Executive Producer: Jerry Torgerson
Creative Director: Efrain Montañez
Art Director:Eduardo Guisandes
Animators: Abigail Fairfax, Josh Lewis, Eduardo Guisandes
Producer: Ryan Lowrie

Title Theme: "Come on Children, Let's Sing" by Mahalia Jackson

Client: Blumhouse
EP/Creative Director: Padraig McKinley
EP: Olga Hamlet
Producers: Alex Espinoza, Adan Orozco
—
LOVECRAFT COUNTRY
Title Design Studio: Antibody
Creative Director: Patrick Clair
Art Director/Animator/Compositor/Lead 3D Artist: Raoul Marks
Animation & Compositing: Savva Tsekmes, Alasdair Willson
Storyboards: Lance Slaton
Visual Research: Charlie Dahan
Executive Producer: Salek
Managing Partner: Bridget Walsh

Illustrations: Ken Taylor
Represented by: Jacky Winter Group
Senior Producer & Agent: Clara Marcus
Series Music by: Laura Karpman, Raphael Saadiq
—
THE QUEEN'S GAMBIT
Main Title Design by: Saskia Marka
Processed Animations by: David Whyte
Main Title Music: Carlos Rafael Rivera
—
RAISED BY WOLVES
Titles Designed by: Studio AKA
Director: Steve Small
Producer: Nikki Kefford-White
Animation/Artworking: Marcus Armitage, Kristian Andrews, Martin Oliver
3D FX simulation: Kristian Fjellerup Olesen, Rob Chapman
3D Modelling: Raymond Slattery
Compositing: Marcus Armitage, Kristian Andrews, Will Eager
Editor: Nic Gill
Opening Titles Music Written and Performed by: Mariam Wallentin, Ben Frost
—
WANDAVISION
Visual Effects and Main Titles by: Perception
Co-Founders: Danny Gonzalez, Jeremy Lasky
Head of Operations: Kris Barone
Senior Producer: Eric Daly
Chief Creative: John LePore
VFX Supervisor: Doug Appleton
Associate Producer: Peyton Goldfarb
Artists: John Koltai, Vlad Lysenco, Alex Rupert, Chris Szeto, David Wave, David Weinstock, Nick Woythaler, Ryan Uhrich