Title Designer PABLO FERRO and ALLEN FERRO speak about the opening to Woman of Straw in this excerpt from our feature article Pablo Ferro: A Career Retrospective.
Pablo: When I was doing Strangelove I also did a title for another movie. A production designer asked me to work on Woman of Straw, with Gina Lollobrigida.
With that, I did a whole storyboard, showing high-contrast photographs of her, the wheelchair, Sean Connery, and a few other things. I shot that just like I shot [the commercial for] Burlington Mills but this moving was slower. We changed colour according to the music – Beethoven's Ninth.
Pablo: They didn't like the colours so their version is all brown. My version is the only way that you could see it with the colour changing and the high contrast. I realized that it looked like Andy Warhol's portraits. I said, "Maybe he saw this?" – but he couldn't have seen it because it's not even a movie.
Allen: No, but it had been at your apartment!
Pablo: I had a loft, and everyone came in there and that was an amazing thing. It was happening because of the work.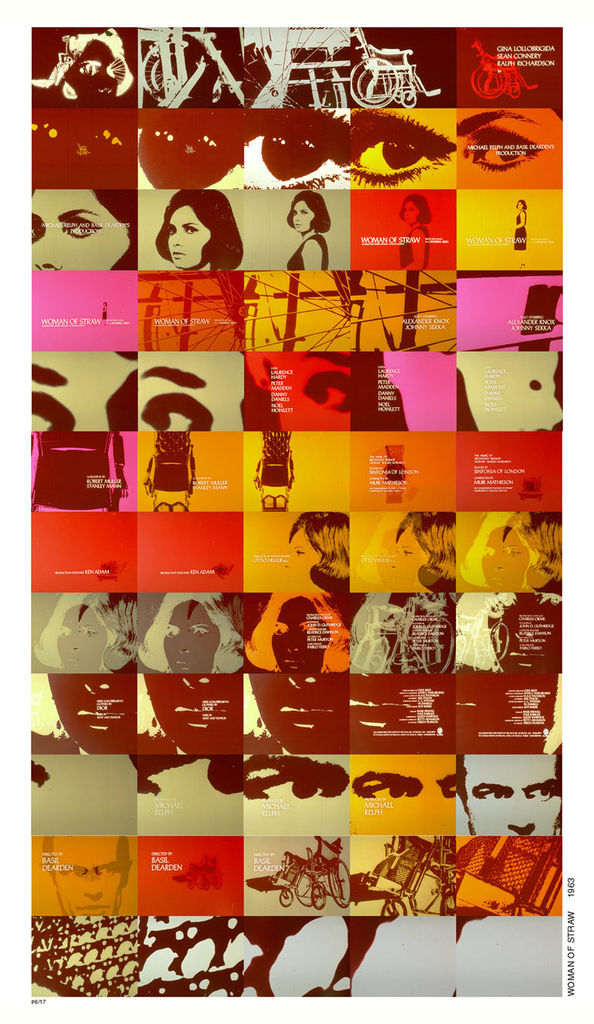 Who were some of the people that visited?
Allen: The list is too long! Honestly. It was very strange back then. All manner of celebrity, all manner of business people.
Pablo: Everyone from Sal Mineo, Norman Jewison, Jon Voight...
Allen: A lot of artists. Peter Max.
Pablo: Warhol came over. Yoko Ono would come over and show her films, and they'd crack me up, they were very funny. It was very exciting.